Family SIM Pack
Never lose touch - Stay home and Stay connected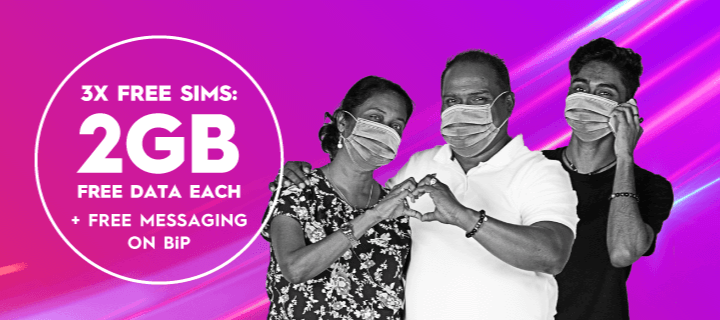 Promotion Details
Stay connected with your Friends & Family during COVID-19 for FREE!
Get your 3 Digicel numbers added to Closed User Group (CUG) for FREE Calls, SMS and Data. Unlimited Free Calls & SMS with 2GB data in each SIM is valid for 30 Days.
This Offer is only for our Prepaid Customers and free calls & SMS is only Digi-to-Digi and within the group of 3 and not to any other Prepaid or Postpaid Number.
Visit your nearest Digicel Store or text 7012876 for delivery.
1.    What is the requirement to add members on Closed User Group?

3 Prepaid Active Numbers.

2.    What is the limit for Calls, SMS and Data?

Unlimited Calls & SMS with 1GB Anyuse Data.

3.    Who is eligible for this promotion?

Any Digicel prepaid Customer- Existing or New.

4.    How to unsubscribe or change the Closed User Group numbers?

Advise Customer Care team.

5.    How do I get my mobile number back on Closed User Group after expiry?

After successful Top Up, mobile number will automatically be added to same group and award the free services

6.    Can a subscriber make call to any other mobile number apart from the group members?

Yes, provided the sub has sufficient balance 

7.    Is it possible to add Prepaid and Postpaid Numbers both to Closed User Group?

No, offer is only for prepaid customers.

8.    Promotion start and end date?

Promotion starts on the 4th of May, 2021 and is ongoing.